OpenSciEd Professional Learning through MMSLN
MMSLN is proud to be one of the 10 partner states of OpenSciEd. For the last three years, MMSLN has implemented an ongoing field test of all OpenSciEd units, created a professional learning team to service Michigan school districts, and provided feedback and ongoing statewide support to OpenSciEd development teams. MMSLN is experienced and knowledgeable about OpenSciEd Middle School OER science materials. 
MMSLN can provide any district with
Introductions to OpenSciEd-Middle School materials

Adoption support for school districts

Ongoing professional learning supports for middle school science teacher
MMSLN will create a customized Adoption and/or Professional Learning Plan for your district. Email Mary Starr, MMSLN Exec. Director, for more information. 
Whether you are looking for ongoing support for teachers in OpenSciEd, an adoption protocol for your middle school teachers, or just some information, OpenSciEd Professional Learning hosted by MMSLN offers a full spectrum of support. 
OpenSciEd Professional Learning is developed and continuously refined by the expert professional learning authors and highly-qualified, Michigan facilitators, who work hand-in-hand with OpenSciEd to create high-quality learning experiences for Middle School science educators.
Informational Sessions
OpenSciEd is an NGSS-aligned Middle School science curriculum. Start with an informational session for your school leaders or teachers. All sessions are listed on the MMSLN Events page. Or we can create a personalized introduction for your school district.
Informational Sessions will provide you with an overview of OpenSciEd materials, the development process, examples of the phenomenon and driving questions within the materials, and implementation data.
There will also be time for questions so you will better understand how OpenSciEd can meet your needs.
Ongoing Professional Learning Support
OpenSciEd consists of six units at each grade, 6th, 7th and 8th.
Each of the 36 Middle School Units has a separate professional learning experience. These PL experiences are 2 days long and introduce teachers to the unit while developing excellent implementation strategies.
OpenSciEd Professional Learning includes time when all middle school teachers work together as well as time when they are in grade level groups. This allows for systemic understanding of the materials as well as grade and unit specific professional learning.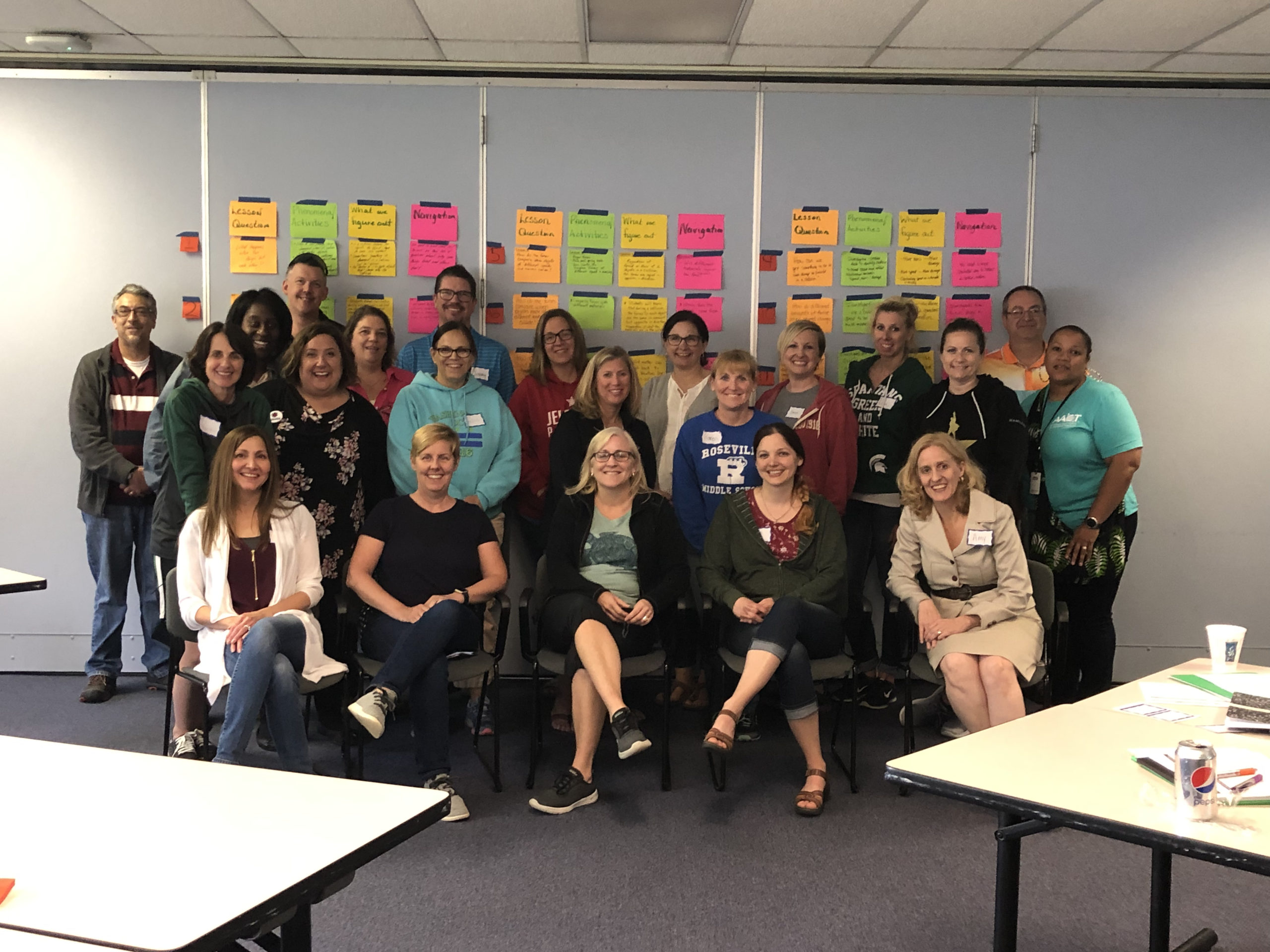 Curious about getting started?
MMSLN will facilitate OpenSciEd professional learning in your district (after Spring 21) or come to you virtually. Our facilitators are experienced in online virtual facilitation of these materials as well as remote implementation of many of the units.
Middle School Science Educators new to OpenSciEd can start with the one hour introduction to OpenSciEd and then continue their learning with a half-day introduction to the philosophy, design elements and expectations of OpenSciEd. These half-day introductions can be scheduled for your district or you can join a pre-scheduled introduction. Check our growing schedule and register.
Middle School Science Educators who have some experience with OpenSciEd can extend their learning based on the units at their grade level. MMSLN will be offering grade specific and unit specific professional learning on an ongoing basis starting spring 2021.
Preparing for 2021-2022
Contact MMSLN and we will help you through these steps.
Attend an information session – January/February
Learn about the released units and the upcoming units in a half-day introduction – February
Evaluate at least one released unit per grade for your school district – March/April
Work with MMSLN to have all middle school teachers attend a four-day professional learning experience in June or August, 2021
Schedule two-day professional learning for three units in the 21-22 school year
Resource kits and other materials, MMSLN can help with this too!
We will create a customized professional learning experience for your district. Email Mary Starr for more information.